PROGRAMS
---
Learn more about trees, natural history, or floral design by scheduling one of Nancy Ross Hugo's lectures or attending one of her workshops. For a fee schedule or to book a program, contact Nancy Ross Hugo. To register for a 2022 floral design workshop (June 3-5 or September 9-11), contact Shrine Mont, Orkney Springs, Virginia (540-856-2141).
Windowsill Art
Creating One-of-a-kind natural arrangements to celebrate the seasons
After years of creating an arrangement on her kitchen windowsill almost daily, Nancy is now an evangelist of windowsill arranging. Through photos (in a PowerPoint presentation) and arrangements she creates on site, Nancy demonstrates how this simple art form can hone arranging skills, stretch creative muscles, and provide connection to the changing seasons. Nancy illustrates how the regular practice of showcasing leaves, seed pods, flowers, and other natural materials on the windowsill (or other small platform) improves one's powers of observation, fires the imagination, and carries over into other arranging activities. She shares dozens of her own creations, which include everything from veggies and kitchen scraps to gumballs and knotweed stems, and she explains which techniques, containers, and materials best facilitate the process.
---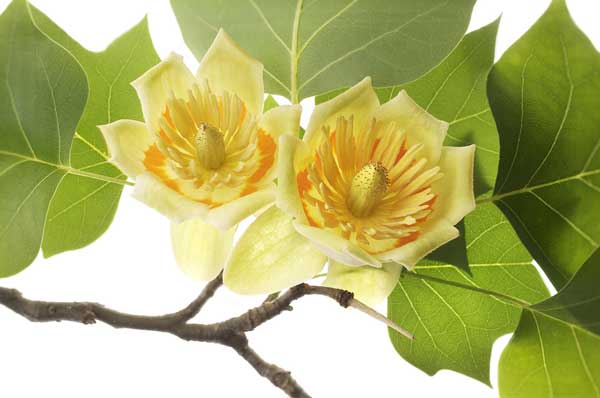 photo by Robert Llewellyn
Trees Up Close
Discover the Extraordinary Secrets of Everyday Trees
In this PowerPoint program, Nancy shares some of the secrets she and photographer Robert Llewellyn discovered in their intense investigation of the seeds, catkins, cones, flowers, resting buds, emerging leaves, and other small phenomena usually overlooked on backyard trees. She argues these intimate details are as exciting to watch as birds and that by becoming more familiar with them, observers will better appreciate both the ecological services and landscape value of trees. Nancy emphasizes the importance of planting long-lived, legacy trees and argues that trees make the best landscape investments.
---
photo by Robert Llewellyn
The Extraordinary Osage Orange
From its strange fruit to its prehistoric origins and connections to native American culture, the Osage orange tree provides inspiration for Nancy's latest lecture, The Extraordinary Osage Orange. In this PowerPoint presentation Nancy describes how to use the fruit, appreciate the wood, and grow the tree. She also delves deeply into the history of this remarkable species, which, in the mid-nineteenth century, was the most planted tree in North America. In 1868 alone, sixty thousand miles of living fences, created from Osage orange slips, were planted to create windbreaks and livestock barriers and many of these hedgerows still exist. Travel with Nancy to see some of them, to understand "hedgemania," and to learn more about Osage Nation, the native Americans for whom this tree is named.